Private Moments 139 (2022)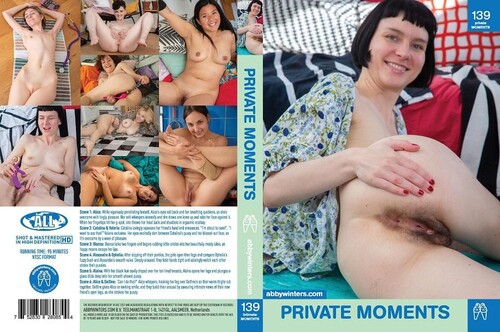 Private Moments 139 (2022)
Alice looks cozy in bed, wearing only a leotard that barely covers the pink folds of her pussy. While caressing her breasts, she reaches down to undo the buttons at her crotch, then reclines with her long legs open and begins touching herself. She lets out a cute giggle, as she gently pats her smooth vulva, which makes her nipples harden. Then, she spits on her fingers and inserts two of them deep inside.
Catalina has discovered the joy of taking a bath with your clothes on, and wants to share it with Valeria. Getting cozy in the bathtub, the girls playfully spray each other with the showerhead, until they're soaking wet. "When the clothes stick to your body, it's a really comfortable sensation" Catalina explains, and Valeria happily agrees. Their hard nipples poke through the drenched fabric, so they eagerly help each other undress. Soft breasts are cuddled with hands and bare feet, panties are pulled down, and clits are stimulated with streams of warm water. "This is going to be very nice!" Valeria murmurs, as they start masturbating together.
Bianca is getting ready for a shower and her hourglass figure looks dazzling in a crop top and a thong that shows off her curvy bum. She decides to relax before washing up, and sits on the edge of the tub, to free her large breasts and caress her hard nipples. Then, she slips one hand into her pink panties, which are decorated with little hearts, letting out a contented sigh before pulling them down. She balances one bare foot on the wall above her head and spreads her legs, revealing her perfect shaved pussy.
"It's kind of cool to get to know someone while you masturbate!" Alexandra exclaims, summarizing the essence of double intimate moments shoots. Her new friend Ophelia eagerly agrees: "It's very interesting and exciting" she giggles, while touching herself and stroking Alexandra's pink nipples. The girls delightedly share their contrasting techniques: Ophelia prefers rubbing her clit with her fingers or a table, while Alexandra needs to use both hands to climax. "Should we take a few of our clothes off, maybe?" Alexandra suggests, and they lower their lacy camisole tops to admire each other's firm breasts.
After her gentle nude solo debut shoot, French sweetheart Alaina is ready to take things to the next level, by sharing more of her flawless body and showing us how she likes to touch herself. Reclining on a pile of pillows in a bright yellow t-shirt and little cotton panties, she slips her hand down them, to start rubbing. Applying dabs of coconut oil to her fingertips, she creates some delightfully sticky sound as she strokes. She puts a pillow between her legs and humps it, her breath shuddering at the delicious friction, then whips off all her clothes to truly focus on her pleasure.
Alice and Delfine have a chat about literature, then realise that they're wearing matching tank tops and floral print skirts. They playfully decide to explore if they also match under their clothes, and take off their shirts. "We have kind of similar boobs!" Delfine exclaims, as they caress their perky nipples. They're also both wearing lacy panties, and eagerly pull them down to compare pussies and masturbation techniques. They discover that Delfine has a neatly-trimmed dark bush and always rubs her clit, while Alice is perfectly shaved and loves finger insertions, then settle in to watch each other.
Category:
Lesbian, Teens, Amateur, Masturbation, Solo Girls, Hairy,
Starring:
Alaina, Alexandra T, Alice S., Bianca B, Catalina, Delfine, Ophelia, Valeria
Language:
English
Size:
2.11 GB
Length:
01:36:08
Format:
MP4
Video:
1280x720
Information
Users of guests are not allowed to comment this publication.